The suspected Novichok nerve agent attack on former Russian spy, Sergei Skripal, and his daughter, Yulia, on March 4th in the leafy town of Salisbury, England has exposed not only age-old divisions between the West and Russia but also political divisions within the UK. Moscow has flatly denied involvement in the attack, which has left Sergei and Yulia critically ill and probably condemned to a slow, lingering death, but the UK government and much of the media have, perhaps predictably, been quick to point the finger East.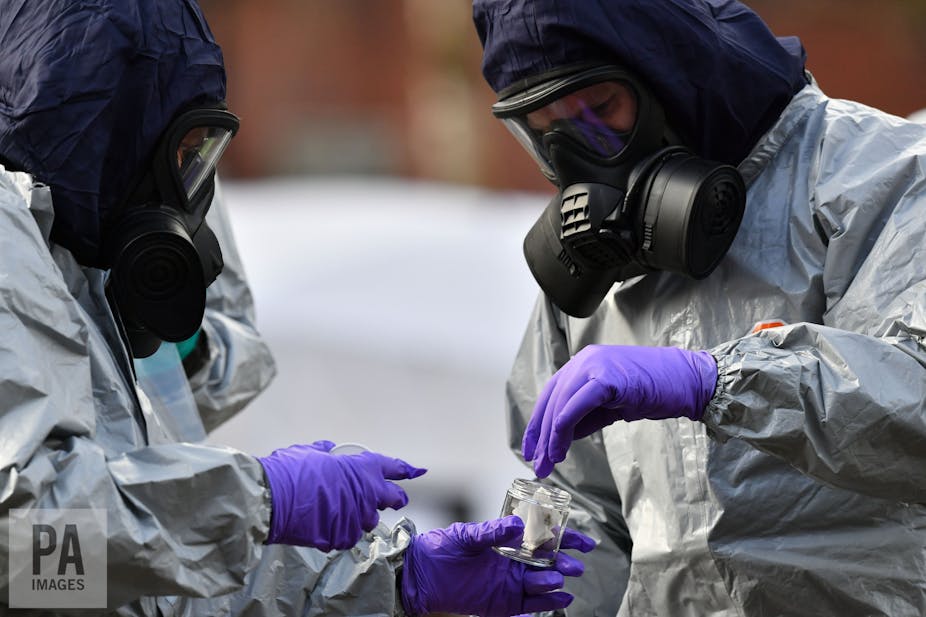 Many of those rushing to rash judgement do so equipped with the evidence of past outrages committed by the Russian government: invading Georgia, meddling in Ukraine and annexing Crimea, shooting down flight MH17, carpet-bombing Syria, and bragging about a new generation of unstoppable weapons make it a hard sell to defend the Putin regime, even for those on what used to be called the "Hard Left". Russia's suspected involvement in the US Presidential elections makes it even harder for the Progressive Left to back this anti-gay, anti-dissent kleptocracy.
Russia also has a history of eliminating former spies, or those who come out as being against the Putin regime, on home and foreign soil. In the UK the polonium poisoning of Alexander Litvinenko in 2006 was quickly blamed on the Russians, who denied all involvement. In recent years, a number of prominent opponents to Putin have met untimely deaths, including that of former Aeroflot director Nikolai Glushkov in London on March 12th.
Critics of former KGB chief Putin, have seized on comments he has made over the years, threatening dire retribution to anyone who betrays the "Motherland." Yet, so far in the case of Skripal, the Russian authorities are pleading innocence, bemusement, and even outrage that they should be blamed for all the evidence is in. The UK's expelling of 23 Russian diplomats was promptly mirrored by Russia expelling 23 UK embassy staff from Moscow, and suddenly we seem to have been whisked back 30 years to the height of the Cold War.
Much has changed in the intervening decades: the Soviet Union has been dismantled, at great cost to Russian pride; Russia underwent a series of economic body-shocks as gangsters and oligarchs divided the country, with ordinary Russians suffering as they always do. Putin seems to have turned things around, shoring up the economy, standing up to the West, and bringing back that elusive but understandable pride: he is an overwhelming favorite to win a fourth term as President in today's elections, making him second-longest Russian leader - after one Josef Stalin.
The West has made an incredible series of strategic and political blunders with regard to this vast country: backing neo-fascists in Ukraine, expanding NATO to Russia's border, taking dirty Russian money while condemning Russian corruption, condemning Russian propaganda whilst taking the RT shilling. Russians also find it somewhat hypocritical for the West to lecture them over Syria - where the Russians are backing Assad (bad) and destroying Isil (good) considering what the West has been doing in the region over the past few decades.
Since the Conservative government explicitly blamed Russia last week, much of the UK popular press has fallen into line. So when Labour leader Jeremy Corbyn pointed out that the evidence did not yet prove Russia's involvement, he was predictably hammered as a Putin stooge, in bed with the Reds, all the familiar accusations levelled at anyone vaguely Left wing since the end of World War II (which without Russian involvement and 26 million dead might not have been won at all). Corbyn deserves credit for pointing out that blaming the already-paranoid Russians without firm proof risks plunging the world into yet another crisis, one neither East nor West can currently afford.
The UK, now on its inexorable course away from Europe, is potentially more vulnerable than most: today's newspapers warned Russia could even target our power stations and turn off the lights if we continue to point the finger, this as the UK is once more ravaged by snowy blasts dubbed the "Beast from the East". It's hard to recall a time when my country seemed more vulnerable, more divided, less respected around the world than it does in post-Brexit 2018.
For what it's worth, despite claims the Novichok was manufactured at nearby Porton Down and the Skripals targeted by UK secret services, it's a pretty good bet that Russian involvement will eventually be confirmed, though it's unlikely the trail will lead back to the canny Mr. Putin. Perhaps the most worrying aspect of the whole affair is what happens when Russian involvement IS proved: because then the UK will have to retaliate, one way or another, and it's hard to envisage any scenario where that would end well for anyone - the UK least of all. In fact, with our military shrunk beyond recognition, little diplomatic clout and, our economy reliant on suspect Russian money, all we can threaten to do is withdraw from the 2018 World Cup Finals - which we wouldn't have a hope of winning anyway.
MARK PIGGOTT
Political Journalist and Author (London)